"1Less brings the ease of single-use into re-use
to reduce plastic waste for good."
ABOUT THE COMPANY
1Less is a Berlin-based start-up that has the mission to fight plastic waste. To do so, 1Less developed a special system to help solve the single-use plastic problem, particularly at large events, trade fairs and shopping centres.
THE PROBLEM: SINGLE-PLASTIC USE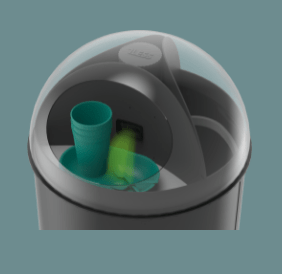 Daily, people discard billions of single-use plastic containers. Each year in the EU alone, over 1.13 trillion food and drink containers find use. Many receive use for only a few minutes yet pollute our planet for thousands of years through slow degradation. We generate tremendous amounts of plastic waste for minimal short-term benefit but lasting environmental impact.
Likewise, the health effects likewise cannot be ignored: recent studies have even found microplastic particles in human placentas. Together with climate change, plastic waste is one of the greatest threats to our lives.
But what if single-use cups and plates at airports, trade fairs, shopping centres and festivals were simply no longer necessary? What if there was a better solution? A solution that allows us to avoid millions of tons of waste without having to compromise on hygiene, convenience or cost.
Re-usable plates, cups and cutlery have to be user-friendly and make infections impossible. That is vital for getting consumers and businesses to accept them. However, due to the COVID pandemic, most cafés have stopped using them. Contact is simply too risky.
THE SOLUTION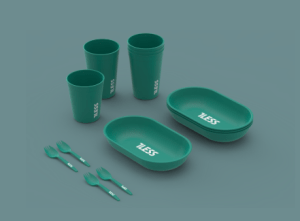 1Less has developed an innovative automated system for use at trade fairs, event locations and shopping centres. It does not require any physical contact. By combining software and hardware and using Internet-of-Things technology, 1Less has created a system of re-usable cups, plates and cutlery.
These items are equipped with RFID tags, which are later sorted by automated sorting bins using different types of sensors.
The fully-automated bin separates normal garbage from re-usable cups and plates when they are thrown away. The service staff empties the bins to transport the dishes to the local dishwashing stations for cleaning and later re-use. This means no refundable deposits are necessary. In addition, the system is 100% COVID-compliant.
The system is easy to install. It allows conferences, airports, zoos, shopping centres and theme parks to avoid much of their plastic waste. This quantum leap of waste prevention will appeal to businesses while also protecting our environment.
After the development of the prototypes in 2021, the first major trials are scheduled for 2022.
WHO BELIEVES IN THIS PROJECT?
KNOW THE TEAM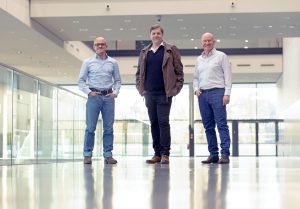 Boris Jebsen
Founder and CEO
Serial entrepreneur and technologist. He is the founder of droidcon, Children of Doom, globalgameport and retroteam.
Sven Hermann
CTO
Senior software developer with interdisciplinary hardware skills and 20 years of experience and played key roles in various IT/IoT projects for large companies. He developed and built all 1Less prototypes by himself.
Gérald Lamusse
COO
His experience growing and managing world-leading products as SVP at Messe Berlin gave him broad international experience in company building and people and product management. As SVP, he led products to global success and built strong management skills in developing teams and innovations.
Consortium:
---

At AFS, we are passionate about fostering innovation and empowering ambitious minds to flourish. Our mission is to provide best-in-class financial services for traditional and crypto deals, exploit European grants, and use quantitative methods to improve clients' performance. We aim to help our customers unlock their full business potential.
Are you looking to fund your next venture or unlock grant opportunities?
Contact us at [email protected]!