"A unified communication and data exchange hub underpinned by blockchain and IoT for supply-chain."
on Vestbee
OBORTECH is one of the companies that Andriotto Financial Services has consulted and help develop.
AFS's CEO, Mauro Andriotto, has thus joined OBORTECH advisory board.
Obortech will be soon presented to the European Commission under one of the main financing programme and recently has raised $600k through an Initial Exchange Offering on Probit!
An overview:
Supply-chain industries have multiple actors with a variety of technical capacities; yet most of them don't have stable technical capacity to develop and maintain their communication and data in an efficient way, due to a lack of skilled IT experts, outdated technology, and inefficient business models the overall sector is struggling with complicated and costly logistics procedures.
The creation of a simple and efficient communication and data hub built on a trusted platform that everyone can use regardless of their technical capacity and knowledge will solve complications and bring significant cost benefits to the sector.
Founded in 2020 in Tallin, Estonia, OBORTECH is an easy-to-participate and simple-to-use unified communication and data exchange hub underpinned by blockchain and IoT for supply-chain.
Sector of expertise: Transportation, Blockchain, Internet of Things, Big Data, Logistics, supply chain, Smart hub, Cloud e Smart.
The Website:
http://www.obortech.io
OBORTECH – whitepaper
https://drive.google.com/file/d/1a9vax2925irEnR5yUVx8ZAGo84ISLEre/view
What does the smart hub offer?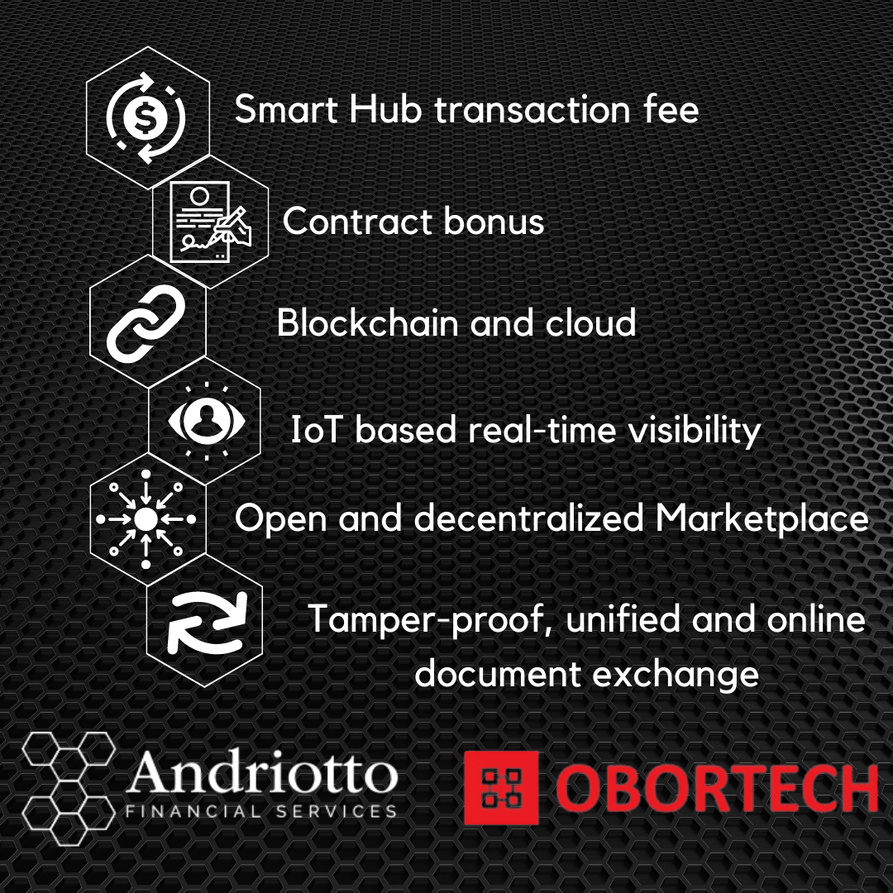 How does it work?
https://www.obortech.io/smart-hub
Decentralized Data: each blockchain network of the Smart Hub has two types of actors: Member organization and Host organization. Nodes will be distributed among Host and Member organizations. Supply chain data will be submitted based on consensus among the nodes in the blockchain network. Each organization independently controls its data privacy via Hyperledger Fabric's powerful security features.
Permissioned Onboarding: the Smart Hub members themselves are the governing bodies of the network. Before joining, every new member in any supply chain network of the Smart Hub needs to be invited and approved by existing members of that supply chain network in the Smart Hub. Host organizations create each supply chain network in the Smart Hub, design its data structure, and invite initial members.
Simple Interface: it has all-in-one with a simple scrolling interface similar to social networking apps. So, it will be easy to know who submitted what data and to interact with others via familiar user experience. All key events and information you received from others in the Smart Hub will be registered on a tamper-proof blockchain ledger.
Fully Customizable: the Smart Hub's data design and structure are fully customizable. It can be used in various supply chain environments. The Smart Hub has a built-in form builder for structured data and documents. Host organizations can design suitable data structures for its supply chain ecosystem and ask voting from member organizations via decentralized governance mechanisms.
Real-Time Notifications: The Smart Hub has a fully customizable notification system for all your events and actions in the platform. Similar to notifications in social networking apps, you'll get real-time notifications of various events, such as new events, document acceptance, comments, alerts by IoT sensors, new member joining, etc. The notifications will come to you via mobile and web apps, email, and sms.
IoT Connectivity: connecting IoT with the Smart Hub is simple with few clicks. IoT sensors can monitor various physical conditions and environments of products in real-time, such as temperature, humidity, location, shock, sealing, etc. OBORTECH partners with industry leading IoT solution providers. With the Smart Hub, you don't have to manage IoT technologies separately. All come with a one-stop solution.
Competitive advantages
(From the whitepaper)
OBORTECH's competitive advantages in terms of creating new opportunities to SME participants of inland transportation supply chain are:
Location and market knowledge
As OBORTECH's founders include experienced freight forwarders to China and Europe, the company has in-depth knowledge of its target market including its constraints and opportunities. Being the front runner, the project has set up partnerships with government organizations and transportation companies in Mongolia, which is a midpoint location for Euro-Asian inland transport. Moreover, inland transportation route from Europe through Mongolia is the shortest route to the biggest importing/exporting country in Asia, which is China. As of now, the project has offices in Estonia and Mongolia, established partnerships in the Netherlands, Australia and Mongolia, and is discussing partnerships with companies in Estonia and Germany.
Scalability (a network effect)
OBORTECH aims to make the Smart hub as simple as social networking apps and focus only on core information flow among supply chain participants. Unlike centralized systems, users themselves will have more control over the network, lead its adoption, and benefit from the revenue stream. The Smart hub is capable of expanding markets and acquiring more customers without being hampered by its structure or available resources when faced with increased demand. Similar to other systems such as Facebook or WeChat, once the Smart hub is joined by initial participants, they would become anchors to involve others to the network. The Smart hub is designed the way that outsiders have to join the hub to be able to communicate with its users, which will create a snowball effect.
As the Smart hub is capable of handling and storing business data and transaction histories of as many participants as available on a secure and trusted platform, data gathered can be utilized for further business analytics and interactions. As more players join the network, useful big data would be created to its participants saving their time and cost.
Thus, once joined, the network members wouldn't easily switch into other platforms to re-learn the experience.
Achievements:
We've received requests from over 20 organizations to participate in our beta testing. Those were organic food manufactures, poultry farm, cosmetic product producers, freight forwarding and logistics companies, insurance firms, micro-finance institutions, etc.
We became Top 6 projects by Microsoft's Century program from 500 applications.
CLICK HERE
We've been selected and accepted by Newchip Accelerator, the #1 Remote Accelerator based in USA, from 1400 applications.
CLICK HERE
We certified as an accredited member of The International Trade Council (ITC). ITC has 29,000 members worldwide including governmental & business organizations.
CLICK HERE
We became "Company of the Year 2021" by LogisticsTechOutlook magazine.
CLICK HERE
We partnered with Onomondo (IoT solution provider for Maersk, the largest ocean carrier in the world).
CLICK HERE
We partnered with various international associations and logistics companies.
See our website's Partners section: www.obortech.io.
Road Map: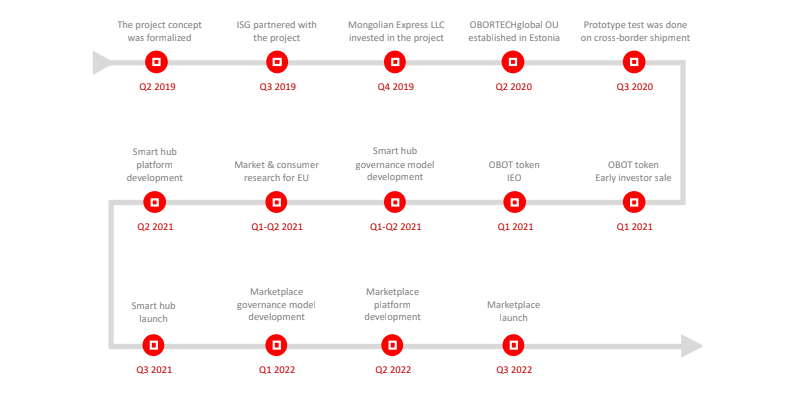 Partners: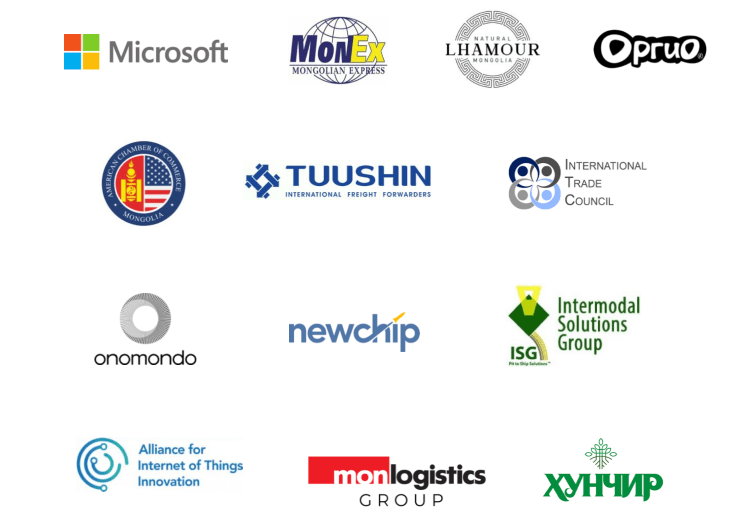 The Team:
Tamir Baasanjav, CEO and Founder
He specializes in project management and strategic communication. He had worked in managerial and expert positions of prestigious international development, government and business organizations such as an agency funded by the Government of the United States for transportation and energy efficiency fields, Knowledge Hub project of Swiss Agency for Development and Cooperation on sustainable mining, and the biggest corporate bank of Mongolia. He also has 10 years of experience in UX and product designs. He won the global product design contest held by Adidas.
Role in the project: He designed the Smart hub concept and its business strategy. He manages the project and leads the product design and marketing/communication.
Enkhbat Dorjsuren, Logistics Lead and Co-founder
He has 20 years of experience in the logistics and transportation sector. He is a CEO of Mongolian Express LLC, one of the largest inland transport and logistic companies in Mongolia. He has an extensive network in Mongolian transportation and logistics sector.
Role in the project: He established the project's partnerships in the transportation sector and leads partnership development in Mongolia and Euro-Asia.
Tungalag Sukhbat CFA, CFO
She is a finance and investment professional with more than 20 years of experience. She has worked in different domains including strategic and financial consulting, central banking, corporate banking, asset management, and multilateral development programs in managerial and expert positions. She achieved CFA Charter in the UK and is a member of the CFA Institute. Moreover, she is a Certified Business Appraiser of Mongolia.
Role in the project: She developed the business plan as well as financial modelling and analysis of the project. She leads financial management and analysis of the project.
Zoljargal Dashnyam, Chief Counsel
She has extensive experience in corporate law and private equity. Her portfolio of clients includes investment banks, multinationals, mining companies, and investment funds. She graduated Harvard Law School with a Master of Laws. She was ranked as a top-tier lawyer in Mongolia for 9 years. She is a Senior Partner of the leading law firm in Mongolia, DB&GTS LLP.
Role in the project: She is in charge of the governance model development of the Smart hub and legal activities of the project.
Alok Gupta, Blockchain Architect
He is a certified blockchain developer with over 12 years of experience in application development and deep knowledge of Hyperledger Fabric architecture and functionalities. He was in the top 5% of the Blockchain Architecture Design course conducted by IBM and IIT, a top technology institute in India.
Role in the project: He developed the blockchain architecture and application of the prototype system. He leads the blockchain (Hyperledger) architecture and application development of the project.
Maxim Prishchepo, Blockchain Architect
He is a blockchain architect with more than 6 years of experience in blockchain development and 20 years of experience in architecture designs of complex financial IT systems. He is a qualified analyst in crypto banking & finance. He worked as a core blockchain developer and architect for Energi, 0chain and Wagerr projects. His main areas of specialization are Bitcoin, Ethereum, PIVX, ZCash and other open source based blockchain solutions.
Role in the project: He developed the Ethereum smart contract of the project. He leads the token payment system and Ethereum blockchain development of the project.
He is internationally recognized as one of the leaders in blockchain and Security Token Offering (STO). He is a professor of Corporate Finance and University of Geneva – UBIS. He is an Independent Expert at the European Commission for Horizon 2020 where he approves public grants for startups. He is also the former quantitative leader at EY for the South Europe area. He advises the project on European market and fundraising.
He is a Managing Director of Intermodal Solutions Group (ISG). ISG is a global company supplying container rotation systems for the mining, grain and ship loading industries. It operates in 12 countries and has a wide network of clients based in the South American region. He advises the project on South American market of containerized transportation of agricultural and mining products.
He is the Chairman of Potrero Capital. He is a cryptograph Pioneer with multiple exits. Founding member of the Silicon Valley Blockchain Society, Architect of the 1st Billion Euro Crypto Floats. Specialized in strategic business development, consulting for start-ups, global 500 companies and NGO's. He and Potrero Capital advise the project in fundraising from Silicon Valley investors and development of strategic partnerships globally.