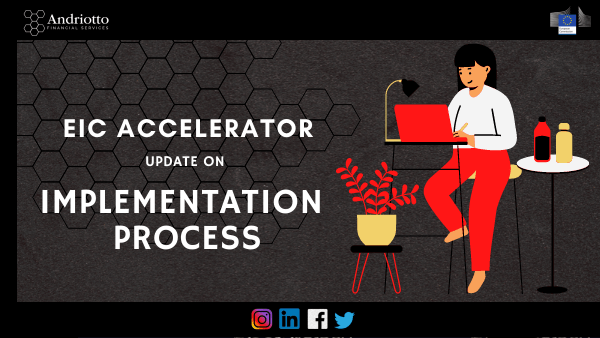 Since its launching in March 2021, significant progress has been made in implementing the European Innovation Council (EIC) building on the successful pilot stage (2018-20): over 4000 start-ups have applied to the EIC Accelerator and a first set of 164 companies have been selected for funding up to now.
The EIC Pathfinder and Transition programmes have also been successfully launched with strong demand, and the creation of a new governance with the EIC Board.
What is the EIC Board?
Established by the Horizon Europe legislation with a mandate to advise on:
Overall strategy for the EIC
The EIC work programme for implementation
Identification of strategic portfolios of projects and the profile of EIC Programme Managers
Other actions to improve the European innovation ecosystem
The members of the Board, including a President, are selected following an open call for expressions of interest.
EIC Novelties
One of the main novelties of the EIC is the combination of grant and investment support through the EIC Accelerator: this approach was successfully tested in the past year under the EIC pilot.
The implementation arrangements for the investment component for the fully-fledged EIC under Horizon Europe are currently being put in place. In the meantime:
The requests for investments for companies already selected for equity funding in 2021 (June and October cut-offs) will continue to be treated by providing the grant finance and undertaking all the preparatory work for the investments, including proceeding with the due diligence work as soon as possible;
The next cut-off for full applications to the EIC Accelerator is now planned this spring, subject to adoption of the EIC work programme 2022 which is expected in the coming weeks. This will allow additional time for applicants to prepare high quality proposals and ensure that, following the selection process, we will be able to proceed in due time with the investment process.
Once fully operational under Horizon Europe, the implementation modalities for EIC equity financing will have a legal and financial basis until 2027, enabling it to make investment decisions and provide attractive investment partners for Europe's high potential start-ups and to crowd in other investors. This builds on the first positive experiences from the 141 investments approved by the EIC Fund since September 2020.
An Insight: background information
The EIC Accelerator offers start-ups and SMEs grants of up to €2.5 million combined with equity investments through the EIC Fund ranging from €0.5 to €15 million. In addition to financial support, all projects benefit from a range of Business Acceleration Services that provide access to leading expertise, corporates, investors and ecosystem actors.
A new start-up friendly application process has been introduced in 2021, under Horizon Europe, where companies can submit their ideas at any time for an immediate fast assessment. Successful candidates are invited to prepare a full application with the help of tailored-made business coaching. The full applications are then evaluated at regular cut-off dates approximately every 3 months. Since March over 4,000 start-ups and SMEs have sent their ideas, of which 801 presented full applications to the first cut-off on 16 June 2021 and a further 1109 to the second cut-off on 6 October. In addition, the first EIC Summit took place on 24/25 November with notably the launch of the EIC Forum and the delivery of the first EIC Prizes (Women Innovators, European Capital of Innovation and EU Innovation Procurement Awards) and recruitments are ongoing for the first EIC Board President and EIC Programme Managers.
About EIC Programme Managers:
EIC Programme Managers are key figures in this new management approach. They:
have the task of nurturing Pathfinder portfolios by developing together with stakeholders a common vision and a common strategic approach that leads to a critical mass of effort.
come from multiple spheres, including companies, universities, national laboratories and research centers.
bring deep expertise from personal experience and years in the field.
are recognised leaders, either having managed multidisciplinary research teams or directing large institutional programs.
The EIC Programme Managers are expected to foster an active management culture, combining a sound technological knowledge with a hands-on approach involving development at portfolio and projects levels of vision-based budgets, timelines and milestones EIC projects must meet to receive continued funding.
EIC Programme Managers are responsible for developing visions for technological and innovation breakthroughs, the active management of portfolios of EIC supported projects to support these visions, and bringing together stakeholders to put these visions into reality.
Programme Managers are appointed full-time for a period of up to four years within the EIC and must have deep expertise in their field, experience managing multidisciplinary teams and programmes, and strong abilities to communicate and influence. Programme Managers come from varied backgrounds, including companies, universities, national laboratories, nonprofit and federally funded research centers.
Why you need consulting service for preparing an EIC accelerator proposal?

About AFS:
Andriotto Financial Services team is an official advisors of the European Commission for Horizon Europe
AFS has a Centre of Excellence in Switzerland with some of the most skilled EU grant specialists, writing a successful proposal and supporting clients during the different implementation phases
AFS evaluate and select the best projects and enterprises around Europe to receive public funding
Our client portfolio includes some of the most important public institutions in Italy and in Europe
Participating in Horizon Europe is an ambitious challenge; however, we have one of the highest success rates between our European competitors.
Down below, you can learn more about each service:
https://www.andriotto.com/what-we-do/
You can find more info about the AFS team here:
https://www.andriotto.com/team/
HOW TO CONTACT AFS:
https://www.andriotto.com/contact/