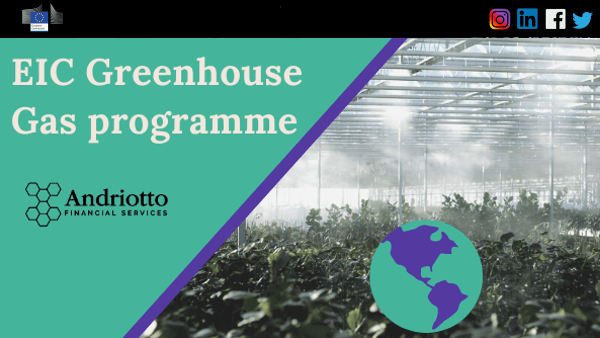 All EIC supported projects and companies get access to coaching, mentoring, partnering and other EIC Business Acceleration Services
In addition to the coaching & training and access to corporates, investors and procurers, EIC-supported researchers, innovators and entrepreneurs have access to the EIC Greenhouse Gas (EIC GHG) programme. With the EIC GHG programme, part of the Business Acceleration Services, the EIC offers the support and expertise needed to assess, track and efficiently reduce the carbon footprint of beneficiaries and co-create new green services and business along the way.
The EIC GHG programme is a journey towards carbon neutrality, with a set of unique steps that SMEs will benefit from. This includes the use of a dedicated GHG tool to assess a company's carbon footprint and suggest mitigation measures, monthly webinars to support these services, as well co-co-creation activities & working groups with corporates, industrial associations, regions in carbon transition and others SMEs.
EIC Greenhouse Gas Tool
The EIC GHG Tool  is the starting point for considering and developing the most efficient solutions to reduce GHG emissions and assess to what extent one company's strategy is compatible with EU objectives.
Access the tool here.
(Please note that this login area is accessible only to the Members)
The GHG Tool allows each EIC beneficiary to simulate the GHG emissions of their activities on the largest scope possible, i.e., their daily direct GHG emissions (e.g., site combustion such as on-building heating or mobile consumption such as vehicle fuel consumption) and their indirect emissions (e.g., manufacturing of sold products, business travel, waste, etc.). Once the carbon footprint is assessed for a baseline year, the tool will suggest a selection of typical mitigation measures applicable to the company's activities. It will then be possible to choose the preferred measures and commit to a certain level of ambition for the implementation of each measure in the next years. Starting from these results and the choices of measures, the beneficiaries may consider or suggest innovative products which may help reduce emissions for each emission category.
Regular webinars on the use of the GHG Tool will be organized. To apply, please go to the EIC Community.
For more information on how to fill in the EIC GHG Tool, check out the tutorial here.
Support services and sectorial webinars
Through the dedicated EIC GHG support services and sectorial webinars, EIC beneficiaries will acquire expert knowledge on CO2 emissions, climate regulations and learn why climate action is a business case. As from September 2021 EIC beneficiaries will have access to:
Monthly webinars on climate issues and policies, best practices, instructions to use the GHG tool (more below) and key reduction measures;
A GHG Resource Library with studies, papers and other sources that cover and support the content from the monthly webinars. The library is updated is updated every two/three months with new information, sources and studies on the latest climate science news;
Direct support from CO2 experts during regular online live sessions (4h per month as from September 2021) and an online helpdesk;
Weekly content on the EIC Community, including a news recap of all climate related news and inspiring success stories. The EIC Community is home to over 5500 of Europe's most innovative startups and scaleups, many of whom are already working on innovative services and products that positively contribute to GHG emissions reduction. An overview (updated on a regular basis) of these leading examples can be found on the EIC Community. In addition, regular updates on the latest climate-related breakthroughs and co-benefits of climate action are planned.
A full list of webinars can be found at the end of the page (see 'Calendar'). To apply for the EIC GHG webinars, please visit the EIC Community.
Co-creation and working groups
The EIC GHG co-creation activities are a key component of the programme and will enable EIC beneficiaries to partners with Europe's largest corporates (SUEZ, Unilever, Bondalti), industrial associations (Cepi), regions in carbon transition (Western Macedonia, Katowice) and other SMEs.
The co-creation activities allow EIC beneficiaries to be more customer-oriented, improve the relationship among different players, and increase the chance of successfully adapting and inventing new products and services. Each co-creation activity lasts six months, from application and selection, to kick-off and co-creation, eventually leading to a dedicated demo day where co-creation products and services can be showcased.
In addition, EIC beneficiaries are invited to be part of online Working Groups on the EIC Community Platform. Working Groups on the EIC Community Platform will help start-ups, scale-ups and SMEs to successfully establish co-creation teams (co-creation peer-to-peer) with the help of qualified business facilitators.
A full list of co-creation activities can be found in the calendar below. To apply for the EIC GHG co-creation activities, please visit the EIC Community.
Consult the Calendar here
Andriotto Financial Services team is an official advisors of the European Commission for Horizon Europe
AFS has a Centre of Excellence in Switzerland with some of the most skilled EU grant specialists, writing a successful proposal and supporting clients during the different implementation phases
AFS evaluate and select the best projects and enterprises around Europe to receive public funding
Our client portfolio includes some of the most important public institutions in Italy and in Europe
Participating in Horizon Europe is an ambitious challenge; however, we have one of the highest success rates between our European competitors.
Down below, you can learn more about each service:
https://www.andriotto.com/what-we-do/
You can find more info about the AFS team here:
https://www.andriotto.com/team/
HOW TO CONTACT AFS:
https://www.andriotto.com/contact/