The importance of value proposition canvas is that it helps companies position innovations around customer values and needs. Developed by Osterwalder, it ensures fit between products and markets. It examines relationships between segments and propositions in the Business Model Canvas. The canvas helps assess fit between propositions and customer needs.
At AFS this is a key check that we perform in order to assess whether an invention or an odd idea is a viable innovation at all.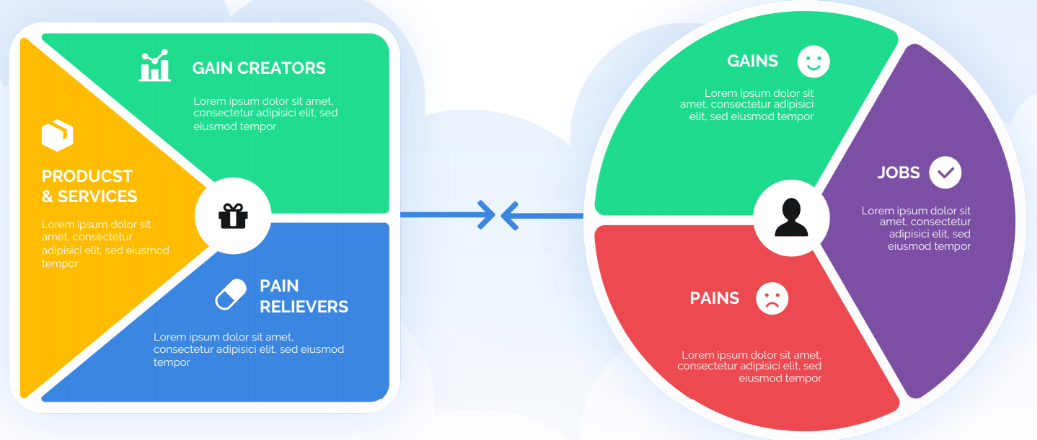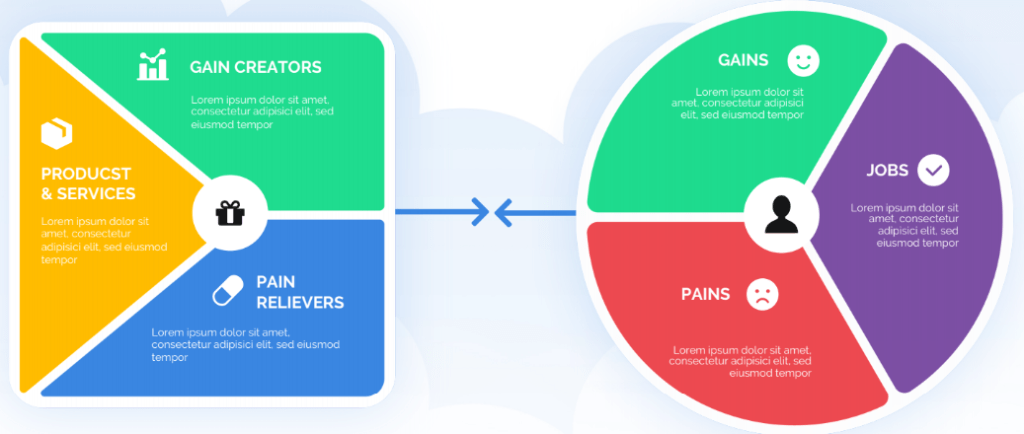 Companies use the Value Proposition Canvas when needing to refine an existing product or service or develop a new offering from scratch.
The Value Proposition Canvas is formed around two building blocks – customer profile as well as company's value proposition.
Customer Profile
Gains – the benefits which the customer expects and needs, what would delight customers together with the things which may increase likelihood of adopting a value proposition.
Pains – the negative experiences, emotions and risks that the customer experiences in the process of getting the job done.
Customer jobs – the functional, social and emotional tasks customers are trying to perform, problems they are trying to solve and needs they wish to satisfy.
Companies should create a customer profile for each segment, as each segment has distinct gains, pains, and jobs.
Value Map
Gain creators – how the product or service creates customer gains and how it offers added value to the customer.
Pain relievers – a description of exactly how the product or service alleviates customer pains.
Products and services – the products and services which create gain and relieve pain, and which underpin the creation of value for the customer.
Achieving fit between the value proposition and customer profile
Customers rank gain creators, pain relievers and products from nice to essential value. Offerings achieve fit by addressing the most important pains and gains in profiles.
Identifying the value proposition on paper is only the first stage. It is then necessary to validate what is important to customers and get their feedback on the value proposition. These insights can then be used to go back and continually refine the proposition.
Why we bring this topic so prominently?
The ultimate judgement whether an idea is a viable and sustainable innovation is the market. Startups must focus on clients as well as the market to create things people value and pay for. Without this focus, ideas remain just ideas and minds remain just minds, not entrepreneurs. The overall priority is providing useful value, not ingenious designs.
---

At AFS, we are passionate about fostering innovation and empowering ambitious minds to flourish. Our mission is to provide best-in-class financial services for traditional and crypto deals, exploit European grants, and use quantitative methods to improve clients' performance. We aim to help our customers unlock their full business potential.
Are you looking to fund your next venture or unlock grant opportunities?
Contact us at [email protected]!