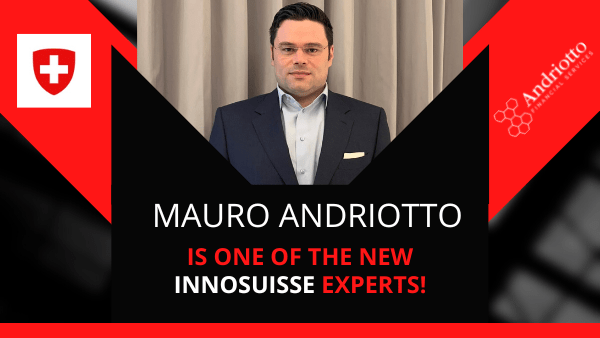 What is Innosuisse?
Innosuisse is the Swiss Federal Agency for investments and innovation that supports science-based innovation in the interest of the economy and society through: innovation projects, support for start-ups, internationalisation and networking support. 
Mauro Andriotto, CEO of Andriotto Financial Services and Founder of the European Digital Assets Exchange platform (EDSX) has been appointed as a new Innosuisse expert for the duration of two year. 
The experts come from various backgrounds and must have considerable expertise in the area of scientific innovation. They must demonstrate skills in scientific research and the ability to evaluate innovative projects, especially in start-ups. In addition, the experts' main professional activity must pertain to scientific innovation. 
The experts are selected by the Innosuisse Innovation Council and proposed to the Board of Directors before they are elected. 
Andriotto Financial Services team is an official advisors of the European Commission for Horizon Europe
AFS has a Centre of Excellence in Switzerland with some of the most skilled EU grant specialists, writing a successful proposal and supporting clients during the different implementation phases
AFS evaluate and select the best projects and enterprises around Europe to receive public funding
Our client portfolio includes some of the most important public institutions in Italy and in Europe
Participating in Horizon Europe is an ambitious challenge; however, we have one of the highest success rates between our European competitors.